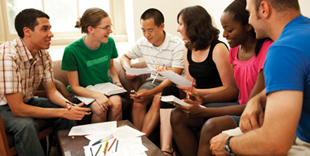 John 13:34, 35
A new commandment I give to you, that you love one another, even as I have loved you, that you also love one another.
By this all men will know that you are My disciples, if you love one another.
The goal of Life Groups at LBC is to help others find and follow Jesus.
Meeting in small groups provides opportunities for spiritual growth through personal connection, discipleship and sacrificial service.
Life Groups at LBC run on a semester styled schedule. The Fall Session is 12 weeks long from September through November. The Winter Session is 16 weeks long from January through April. Groups typically meet twice a month.
Interested in joining a group? Registration is open for 4 weeks before the beginning of each session. Group information including the focus of each group as well as meeting times, location, and leader will be posted in the church and online. (Click link for postings)
Already in a Life Group? Invite a friend who isn't involved to join yours!
Still have questions? Contact the Group Leader or Joel Hooton for more information.
Joel Hooton, Congregational Life Director at 586-944-5870